Q&A and Background Info Links Added Below !!!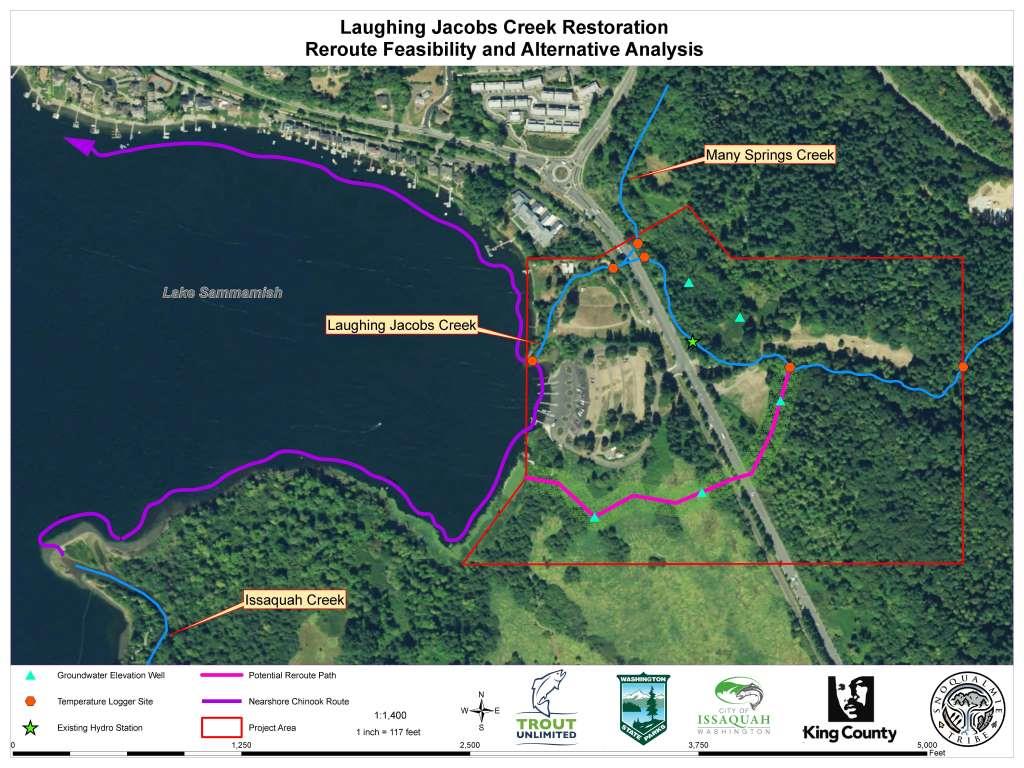 Trout Unlimited is proud to sponsor the Restoration Feasibility Study of Lower laughing Jacobs Creek. This Creek is an important Kokanee Stream and presents a unique opportunity for restoration in an urban setting. This page will serve as a placeholder for the RFP for the project, updates, data, and everything else related to the project.
Q & A
Q. Do front and back covers and/or a table of contents within the PDF count towards the maximum page count?  Do resumes count against the page count? Can they be placed in an appendix at the end of the submittal?
A.  Front and back cover pages will not count against the maximum page count restriction. Table of contents and resumes will count towards the maximum page restriction. We would suggest that resumes be abbreviated to contain pertinent background and experience for this project.  
Q.  Can I return to the project area to further develop my proposal?
A. With exception to the three private parcels to the north of the Boat launch facility, you are welcome to revisit the project area. Please do not trespass on the private ownership without permission.
Q.  Is there a preferred restoration alternative for this creek already?
A.  No. This is a complicated project area that needs to be comprehensively studied to determine the best restoration alternative.
Q.  Is this project limited to the restoration alternatives mentioned in the RFP?
A.  No. The purpose of this project is to gather enough information to make an informed decision on the preferred restoration alternative to maximize potential benefits (biologically, water quality, etc.) and limit potential risks.
Q.  If Laughing Jacobs Creek is rerouted, will the stream channel west of ELSP be abandoned?
A.  No. Many Springs Creek, a tributary of Laughing Jacobs Creek, will always flow through the channel west of ELSP.
Q.  Is Lake Sammamish State Park supportive of this project?
A.  Yes. WA PARKS is a partner on this project and are supportive of this study.
Q.  Is the only focus for this project kokanee?
A.  No. This is a multi-focus study to improve water quality in the creek and maximize benefits for kokanee and juvenile chinook.
Q.  Will Trout Unlimited be seeking funds to move into additional phases of this project?
A.  Depending on the outcome of this study, Trout Unlimited will be seeking additional funding to move this project forward.
Q: Will TU help the selected consultant with access to private property?
A: Yes, TU will work to ensure the selected consultant has access to all project area lands.
Q: Will any permits be need to perform the required work?
A: No regulatory resource permits are anticipated to complete this feasibility analysis and 30% design.  TU will work to ensure the selected consultant has access to all project area lands.  TU will also help facilitate information sharing and coordination with other agencies.
LINKS:
Blueprint for the Restoration and Enhancement of Lake Sammamish Kokanee Tributaries (Laughing Jacobs section)
AMEC – Laughing Jacobs Creek, Sammamish State Park Re-Alignment